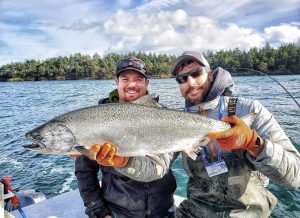 Looking for a salmon fishing guide or salmon fishing charter trip in the Seattle area? No trip to Washington state is really complete without the salmon fishing experience, and All Rivers & Saltwater Charters offers expert guides and the latest equipment to ensure you get the most out of your trip.
Our salmon fishing charters are offered all year round, on the rivers as well as saltwater. Your salmon fishing guide will take you out on a fishing boat that is custom designed for the task at hand and outfitted with all the right gear: Okuma rods and reels, the best bait and tackle, and other premium equipment.
Best Times and Seasons to Fish Salmon in Seattle
We believe Seattle is one of the best fishing destinations on the west coast. Areas such as Puget Sound are ideal for anglers of all skills, and we encourage you to book your fishing experience with us today!
However, we also want to ensure you make the most of your fishing experience, which is why we want you to know the best times and seasons for salmon fishing in Seattle.
If you want to catch coho salmon, chinook salmon, pink salmon, lingcod, flounder or sockeye salmon, plan to visit between June and September, with the summer months being some of our busiest. If you prefer to fish for chum salmon, visit between October and December.
One of the reasons Seattle is such a popular location for salmon fishing is that most of the rivers and lakes feed right into the Pacific Ocean and are the spawning grounds for the species mentioned above. This means there are plenty of fish to satisfy you and fill your cooler during your day of fishing.
While knowing the time of year when the fish are around is beneficial, Seattle isn't known for great weather conditions. It's close to the Pacific Ocean, and its northern latitude keeps it misty and cool throughout the year. During the winter, it's snowy and cold, and while that may not sound like ideal fishing weather – think again! The fish love it, and that means plenty of fish are available for you to catch.
Knowing when to come is half the battle. We want to ensure you're fully informed. Learn more about Seattle salmon fishing here.
Are Freshwater Salmon and Saltwater Salmon the Same?
When it comes to salmon, there are some misconceptions. For example, did you know that freshwater and saltwater salmon are the same species? It's true!
North America includes one species of Atlantic salmon and five species of Pacific salmon, including chum, sockeye, pink, chinook and coho.
While they're the same species, they exhibit unique characteristics in terms of physiology and behavior. For example, many grow larger in saltwater, and some don't eat while in freshwater rivers. Some species die after they spawn in freshwater.
Freshwater and saltwater salmon are anadromous. This term describes fish that spend part of their lives in saltwater (the ocean) and then move to freshwater (streams and rivers) to spawn. The best-known anadromous salmon species in Seattle include chinook and coho.
Do Salmon Spawn in Rivers During the Summer?
The salmon spawning season in the Seattle area starts at the beginning of summer and runs well into the mid-part of fall. While many people come to the area to watch the thousands of wild salmon swim upriver, it's also interesting to watch them navigate fish ladders to lay eggs. Another popular time is the spring salmon runs when the young salmon move downstream to the ocean. However, these aren't quite as dramatic as the upstream rush for spawning.
Before planning your time fishing in Seattle, ensure your fishing license is in order. Learning the area's fishing regulations is also necessary to ensure you don't make mistakes that may result in issues.
For example, the Endangered Species Act threatens and protects some salmon species. Because of this, you need to know when you can view the wild salmon habitats.
If you plan to book fishing charters with us, you can feel confident that we know the area's rules and regulations and will help you enjoy your experience while following the local rules and laws.
Join us for one of our Seattle salmon fishing charters and enjoy an adventurous fishing trip with a knowledgeable guide. All you have to bring are sunglasses, a sack lunch and drink, and left hand retrieve reels if required (or you can speak to us beforehand if that is a need).
Charter your Washington state salmon fishing adventure today!