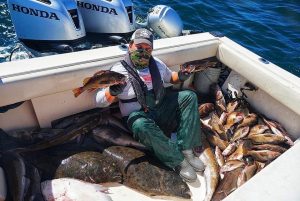 We offer halibut fishing charter trips in Westport, Washington in the spring. These trips are saltwater only, and you'll enjoy a wonderful fishing adventure with an experienced guide and the best boat and equipment!
All Rivers has fishing boats that are designed for precisely the type of fishing they will be used for, and we equip our boats with quality gear including Okuma rods and reels. With many of these Westport halibut fishing charters under our belts, our guides and crew are the perfect choice when you want to enjoy halibut fishing at its best. Just come dressed for the weather, bring a sack lunch and drink, wear your best-polarized sunglasses and we'll take care of the rest! (More details are available on our Rates page.)
Join us for one of our fun and adventurous halibut fishing charters! Make your reservation with some of Washington state's best fishing guides today.