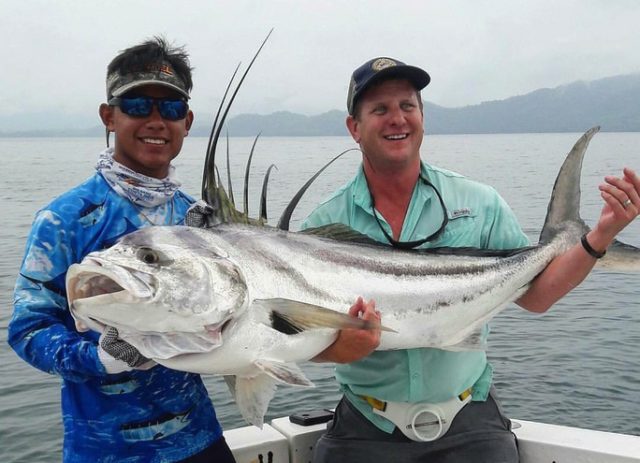 Costa Rica Big Game – Offshore & Inshore
Nov 18 2021
On full day trips our day begins with a run offshore to record class blue water to target Pacific Sailfish, Marlin, and Yellowfin Tuna. We usually use bait and switch techniques by trolling artificial teasers, dead baits, stick-baits and lures.
Alternatively we can cast poppers to schools of Tuna or target bottom dwelling species with vertical jigs or bait. Many of our multiple tackle techniques target many species at once and will often result in double hook-ups.
Inshore
Costa Rica offers some of the best inshore sport fishing in the world. Along the Central Pacific coast from Cabo Blanco to Quepos the inshore fishing is mainly around rocky islands, headlands, reefs, river mouths and estuaries, offering very diverse inshore fishing grounds. The main target of these trips is typically Cubera Snapper, Grouper, Rooster-fish and an assortment of other Snappers, Jacks and Mackerel. While slowly working these rocky shorelines we are simultaneously slow-trolling live baits, casting poppers and dropping jigs.
Due to the short duration and limited range during half days we do not actively target Billfish. That is not to say they are not caught during half day trips but, they are an infrequent catch therefore if you desire to catch a Sailfish or Marlin we ask that you please consider a full day trip.
Fishing Seasons
Marlin: September through November is normally the top months for Marlin in this area, but action is also good in May and June. Occasional Blues and a rare Black are likely to be found anytime of year.
Sailfish: December to the end of April is rated the very best season, but the big schools can often move in as early as October. A few Sails always show up among the catch from June through September, mixed with the other species that are found during those months.
Tuna: Found throughout the year as they are all along the Pacific coast, but most abundant from about June through September. Most are the 8 to 12 pounders, but a dozen or more over 200 pounds and maybe another two dozen in the 100 to 200-pound range are taken every year.
Roosterfish: Fishing for this hard-hitting inshore species is little short of incredible with the best spots off the river mouths and the rocky drop-offs. Exceptional in the Gulf of Nicoya and at the mouth of the Parrita River; Palo Seco between Parrita and Damas; and off the mouth of the Naranjo River. Best fishing is during the summer months, from June through early September.
Mahi (Dorado): Found throughout the year but the rains that start in late May and wash debris from the river mouths, creating the inshore trash lines that the Dorado like to lie under can promote a lot of action.