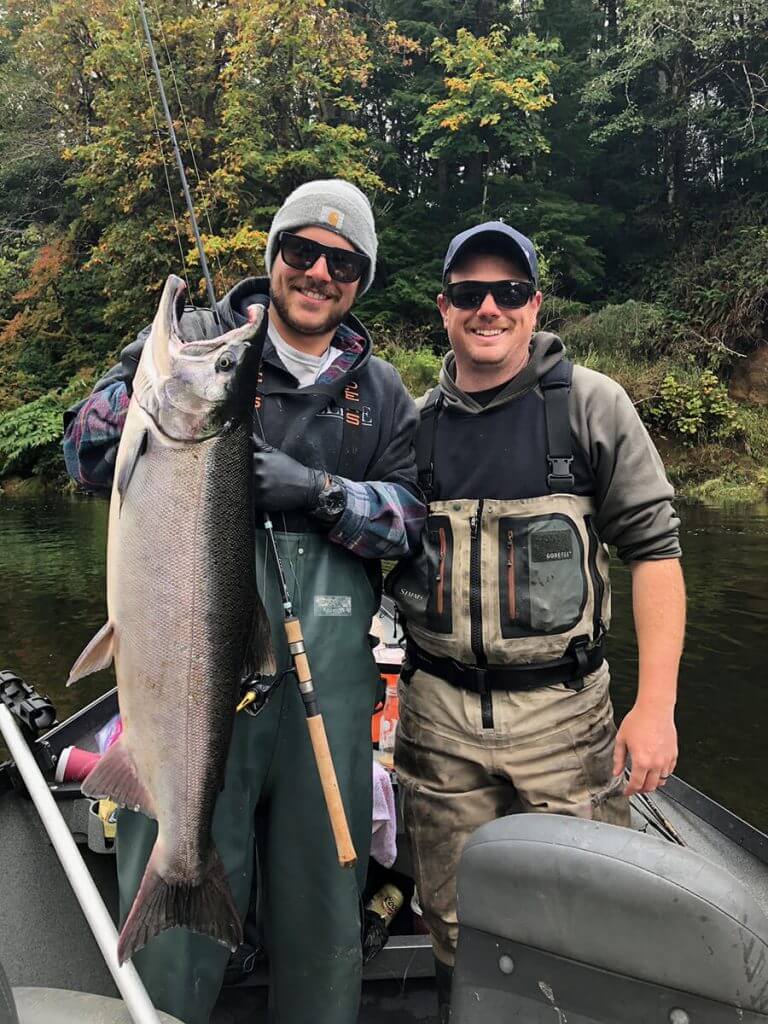 Humptulips King & Coho Salmon
Sep 10 2019
Located on Washington's central coast, our small Olympic Peninsula rivers yield strong runs of BIG King salmon, lure smashing Coho, and the hardest fighting Chum salmon around. By Thanksgiving weekend, hatchery Winter Steelhead will join the mix along with continued Coho returns and a few Kings still in the system. Our "float" is usually 8-12 miles each day and gives us access to parts of the river that few people can get to. This is our very best freshwater fishing opportunity, period!…$225/pp, or $450 private boat for one or two. Multiple boats and guides are available.
What Kinds of Fish Are in the Humptulips River?
The Humptulips River is home to a number of types of fish. It is an active habitat for coho, chinook, steelhead, chum, and sea-run cutthroat trout.
What Is the Difference Between King (aka Chinook), Chum Salmon, and Coho Salmon?
Chinook salmon are also known as king salmon because they are the heaviest and biggest salmon in the entire world, whether wild or freshwater salmon. King salmon can easily weigh more than 100 pounds and measure as much as 5 feet in length. Chinook salmon are identifiable by the distinct solid black color of their gums and the inside of their mouths. When they spawn, the chinook salmon grow elongated mouths and heads and their tails become maroon or olive-brown in color.
Chum salmon is categorized as the least popular type of salmon. This is because it is not as flavorful as other types of salmon. The only exception to this is when it comes to the chum salmon's roe, which is larger and considered to taste better than most. Because of this, the roe is a favorite sushi topper.
Chum salmon is easily confused with sockeye salmon. Both are spot-free with white mouths, however, chum salmon can be identified by the faint lines of color on their sides, as well as their teeth, which are significantly larger than other types of salmon.
Chum salmon are especially easy to identify when they spawn. During this time they become an icky green and purple color.
Coho salmon is identified predominantly by being the toughest, hardest-fighting of all types of salmon. Coho salmon have black mouths with white gums. They feature spots along their backs and the top part of their tails. They become very distinctive-looking when they are preparing to spawn due to the fact that they turn a bright shade of maroon or red with a dark-colored head, back, and tail.
General Info About Fishing in the Humptulips River
Chum fishing in the Humptulips River actually picks up close to winter as the salmon season is coming to a close. Stevens Creek is a tributary of the river. At the mouth of the tributary, you will find the Humptulips Salmon Hatchery.
The Humptulips River is popular for its consistent fishing, especially salmon fishing. If you're not familiar enough with fishing on the Humptulips River to plan your own fishing trip, it makes sense to use a fishing charter service that comes with an expert fishing guide, boat, gear and tackle. At All Rivers & Saltwater Charters, we have the expert guides, fishing permits, boats and local fishing knowledge to ensure that your fishing adventure with us is truly memorable. Contact us today to learn more and get started planning your Alaskan fishing charter trip!
| | |
| --- | --- |
| When | September 1st – November 15th |
| Depart | Humptulips, WA |
| Guides | Ray, Mike, Ian, Matt, Mark |
| Boats | 16′ Drift Boats |