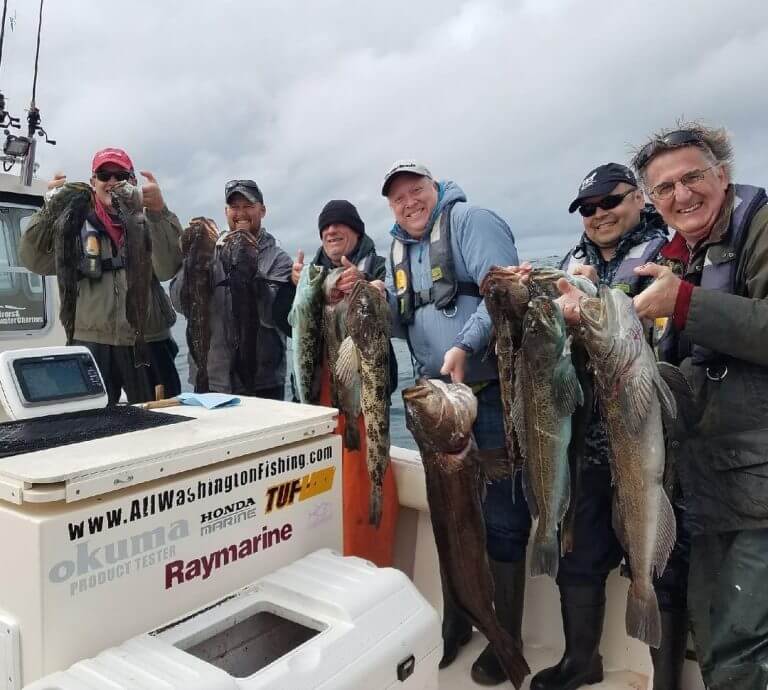 Lingcod & Rockfish – Express Style
May 16 2020
Lingcod & Rockfish Fishing 
in Westport, WA
The lingcod is a large bottomfish that lives on rocky bottoms in waters both near shore and offshore. You can go fishing for it in the ocean waters out of Westport or Puget Sound from March through July. It has a gorgeous red-orange color and phenomenal taste. Its solid white meat is perfect for fish and chips and tastes delicious grilled or baked with lemon, butter, pepper, and herbs. The preferred method to fish lingcod is drift fishing with live bait in high current areas, so we must back into the current to slow down the drift and work our bait along the rock ledges. We also catch Cabezon, Rockfish, and sometimes even Halibut. Local fishermen become interested in Puget Sound's underwater rock piles, reefs, ledges, and breakwaters in early May each year, right about when lingcod fishing in the ocean and Puget Sound opens up.
Lingcod Fishing in Puget Sound
The ocean and Puget Sound lingcod fishery is well-known because it's the first proper fishing of the season and the fish itself is of great size, aggressive towards lures and bait, and fierce fighters in the water. Lingcod can grow to be rather large, and even with Puget Sound's regulations, you can capture a true monster.
While chasing lingcod in the Seattle area, we use many techniques to entice a bite from these aggressive fish. The best time to fish for lingcod is late spring and early summer unpressured and hungry. The best baits to use are live flounder or dead herring. Fishing for lingcod is a battle, and losing gear is pretty typical. Even though Lingcod live on the bottom, the best success comes from keeping your bait several feet off of the bottom to avoid losing all of your gear in the rocks.
Try lingcod fishing in Puget Sound on calm seas. It is perfect for those who have yet to find their sea legs, as we fish a protected body of water without swells. Or for the more adventurous, try a trip out of Westport, Washington. Catches are typically greater in this location too.
Lingcod Fishing Seasons and Regulations in Seattle's Puget Sound
The season for Puget Sound lingcod runs from May 1st through June 21st each year. Depth restrictions prevent you from fishing for bottom species deeper than 120 feet in all areas where fishing is permitted. It's also necessary to have a ready-to-use rockfish descending device. One lingcod per person is allowed per day, and the slot restriction is 26 to 36 inches. Any lingcod that is too long or too short for the slot restriction must be released. But we can still retain lingcod that is 26 to 36 inches long and weigh 8 to 17 pounds, with the typical keeper fish weighing around 12 pounds.
However, if you'd like to take the ocean trip out of Westport, most, if not all of these restrictions do not apply.
Picking the Right Conditions To Fish for Lingcod
There are many places to go fishing in Puget Sound, but we like going out on calm days when it's not too windy. We typically drift near the bottom in water depths ranging from 80 – 120 ft where we know there will be lingcod lurking. While utilizing similar techniques as Puget Sound, our Westport Lingcod fishing occurs from 80-300 ft of water. Tides and currents can be particularly tough for inexperienced fishermen, but observing the currents can help you find the best fishing grounds. You'll need a large bait to catch a lingcod. While you can buy frozen herring at most tackle shops, it's easy to catch your own live flounder using light tackle on the way out to the fishing grounds.
How To Catch Lingcod in Puget Sound
Lingcod are big, aggressive fish caught with several techniques. The best way is drifting bait near, but not on the bottom. This often involves briefly feeling the bottom every few seconds while drifting. This technique is for all types of bottom fish, such as black cod, rockfish, flounder and halibut. It's also one of our favorite ways to spend an afternoon. If you're looking for something different to do while visiting Seattle or the Washington coast, get hooked on lingcod fishing in Puget Sound or ocean waters out of Westport.
If you are interested in catching lingcod in the beautiful Puget Sound or Westport, contact the expert guides at All Rivers & Saltwater Charters today!
This is a very hands-on, fast action trip. We offer both the inshore Lingcod and Rockfish trip, as well as the deep water style offshore trip and the grounds, are plentiful! What you take home is the best part of it all…
Our boats reach the best fishing spots fast and are set-up for the best success during these short seasons. We only take 6 anglers per trip which means you'll be well taken care of by our captain and deckhand.
Inshore Lingcod & Rockfish now fishing from March 9th-July 21st… $195/p.
Deep Water Lingcod now fishing from June 1st – July 21st… $250/p.
| | |
| --- | --- |
| When | March 9th – July 21st |
| Depart | Westport, WA |
| Guides | Ian, Jarrid, Allan, Mark |
| Boats | 29′ Defiance Guadalupe |